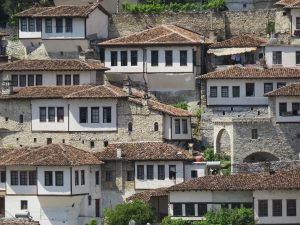 One of the greatest challenges in global theological education is to keep the conversation going between Churches and theological schools how institutions for theological education and pastoral formation could better serve (Evangelical) churches to be relevant witnesses in their contexts. This is also a challenge for the Balkan contexts (Croatia, Serbia, Slovenia, Bosnia, Kosovo, Montenegro, Macedonia, Albania, Romania, Bulgaria, Moldova and Greece), especially the countries of the former Yugoslavia.
An organisation working to "keep theological education relevant and sensitive to the needs of churches" is the European Evangelical Accrediting Association (EEAA) established to: "cultivate a meaningful relationship with churches, denominations and evangelical organizations that are based in Europe. They count six institutions from this region among their member schools: Bosnia and Hercegovina (1), Croatia (2), Greece (1) and Romania (2).
The next Council meeting of the EEAA will be held in Osijek in April 2018. We would like to use this opportunity to organize a consultation with the purpose of mapping the trends, challenges and needs of theological education in the Balkan contexts and to strengthen partnership and cooperation. EEAA Council members will join us in this conversation.
Save the date!  It is an honour to invite you on behalf of the Program Committee for this consultation, to be convened in Osijek, Croatia
Tuesday 10th April 2018 – 12th April 2018.
Starting with supper on Tuesday 10th, end with breakfast on Thursday 12th, 
with the title:
Conversations on Theological Education, Church and Mission in the Balkan Contexts:  Trends, Challenges and Needs.
We warmly welcome and invite pastors and theological educators, representing Churches and Theological schools from Evangelical and Protestant backgrounds on the Balkans, as well as mission organisations involved in (supporting) theological education on the Balkans, and others interested.
Find a link to a draft list of theological schools, and centres for pastoral formation, that receive this invitation. Please take a quick look at this list, whether the information on schools in your country is correct. Maybe we missed some schools, please add the contact information: here .
Program Committee and co-organizers:
Corneliu Constantineanu, Aurel Vlaicu University of Arad, Faculty of Humanities and Social Sciences, Director of Intercultural and Interconfessional Research Centre, Romania
Rev. Tomislav Dobutovic, Christian Baptist Church in Bosnia and Herzegovina, Sarajevo, BiH
Anne-Marie Kool, Osijek Institute for Mission Studies, Evangelical Theological Seminary, Osijek, Croatia
David Kovacevic, Deacon Church of God in the Republic of Croatia, Vice Dean for Student Affairs, Evangelical Theological Seminary, Osijek, Croatia
Peter Kuzmic, Dean, Evangelical Theological Seminary, Osijek
Kosta Milkov, Director Balkan Institute for Faith and Culture, Skopje, Macedonia
Parush Parushev, Evangelical European Accrediting Association, Langham Trust
Peter Penner, Vice-President Central and Eastern European Association for Mission Studies, Director of Advanced Studies of the Euro-Asiatic Accrediting Association
Mark Shady, Director Mostar Bible School, BiH
Damir Spoljaric, The Evangelical Pentecostal Church in the Republic of Croatia
Perry Stepp, President of Biblical Institute (Biblijske Institute), Zagreb, Croatia
Julijana Tesija, Osijek Institute for Mission Studies, Evangelical Theological Seminary, Osijek, Croatia
Greg Thellman, Vice Dean for Academic Affairs, Evangelical Theological Seminary, Osijek, Croatia
We would greatly appreciate it if you could provide us with the contact information of pastors and theological educators or forward this invitation to those interested to join us in this Conversation.
Consultation Venue:
Evangelical Theological Seminary
Cvjetkova 32, PO Box 370, Osijek, Croatia, HR-31103
Tel: 385-31-494-200 // Fax: 385-31-494-201 // Email:  info@evtos.hr
Language of the conference: English. Contact us if you would need translation.
Registration fee:  25 Euro.
Registration deadline:  26 March 2018.
Accommodation (2 nights):
Accommodation in shared (double) bedroom, meals and coffee break: 70 Euro.
Accommodation in single bedroom, meals and coffee breaks: 110 euro.
Participants with scholarships will be given accommodation in shared rooms. An upgrade from shared to single is available for 40 Euro.
Scholarships:
Participants may apply for partial or full coverage of the conference costs.
Limited scholarships for travel expenses are available.
Please register as soon as possible using the following form:

We look forward to welcoming you and to joining hands in building God's Kingdom on the Balkans.
On behalf of the Program Committee:
Blessings,
Greg Thellman
Anne-Marie Kool
Julijana Tesija